Puree Recipes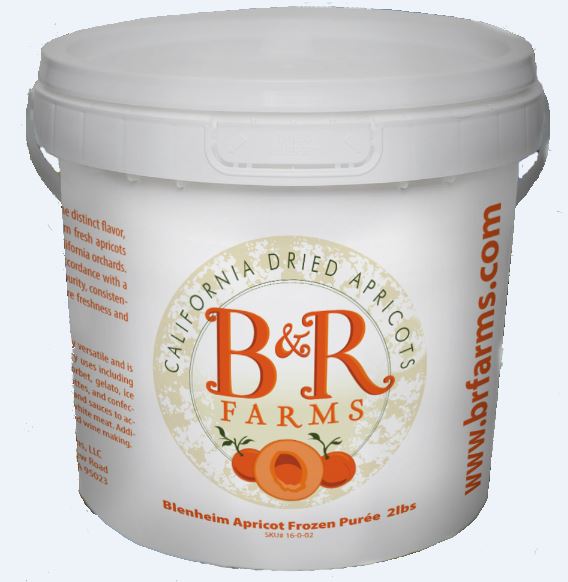 Apricot Bellini
2 TBSP of B&R FARMS Apricot Puree
Chilled sparkling wine
Place the B&R Farms apricot puree in the bottom of a Champagne flute

Fill the remainder of the glass with the sparkling wine.

Serve immediately
*You can also use sparkling water for a non-alcoholic version
Apricot Bourbon Cocktail
2 ounces of Bourbon
1 ounce of B&R FARMS Apricot Puree
1/4 ounce lemon juice
3 fresh mint leaves
Combine the bourbon, B&R Farms Apricot puree & lemon juice in a cocktail shaker over ice. Tear the mint with your hands & add to the shaker.

Shake vigorously until everything is incorporated & strain into a rocks glass filled with ice.

Garnish with extra mint.
Apricot Ice-cream
1 (12 ounce) can evaporated milk
1 (1/4 ounce) envelope plain gelatin
3⁄4 cup sugar
6 (3/4 lb) B & R Farms fresh apricot frozen Puree
1 cup plain yogurt
1 teaspoon vanilla
Directions
1. Combine milk and gelatin in large saucepan.
2. Heat, stirring often, until gelatin dissolves.
3. Add sugar; heat until it dissolves.
4. Using a wire whisk, stir in apricot frozen puree, nectar, yogurt, and vanilla.
Pour mixture into ice cream maker; freeze according to manufacturer's directions.
Apricot Fruit Leather
1 teaspoon lemon juice
2 cups Fresh Apricot frozen Puree
1/2 cup white sugar
Directions
Preheat the oven to 150 degrees F (165 degrees C), or the lowest setting you have.
Combine the lemon juice, apricot puree and sugar in a saucepan. Cook over medium heat until sugar has dissolved.
Cover an 11x17 inch pan or cookie sheet with a layer of plastic wrap. Pour the pureed fruit onto the plastic and spread evenly to within 1 inch of the edge.
Bake for 4 to 6 hours in the preheated oven, using a spoon or a pair of tongs to keep the door slightly ajar, or until the puree has dried and is no longer sticky. Once dry, you can cut it into strips and store in an airtight container.
Apricot Lulu
2oz. B&R FARMS Fresh Frozen Apricot Puree, thawed
2oz. Water
3 tbsp. Coconut Water
1 tbsp. frozen lemonade concentrate
1 tbsp. superfine sugar
1/2 to 1 cup crushed ice
Garnishes: fresh mint, orange slice
Place all ingredients except garnishes I blender; process until frothy and ice is finely crushed.
Pour into a tall glass; garnish as desired.
Apricot Orange Juice
1/2 cup agave
30 ounces of B&R FARMS Apricot Puree
1-1/2 cups lime juice
2-3 pellegrinos
5-1/2 cups orange juice
Combine all ingredients, serve over ice.
The Crazy "A"
1-1/2 ounces rosemary infused vodka (recipe below)
1/2 ounce B&R FARMS Apricot Puree
1/2 ounce simple syrup
1/4 ounce fresh lime juice
Lime wedge for garnish
Combine all ingredients, except for the lime wedge, in a cocktail shaker over ice. Shake vigorously

Strain into a rocks glass filled with ice & garnish with the lime wedge
Rosemary infused vodka
2 c vodka
2 bunches of fresh rosemary
Place rosemary in qt-sized mason jar. Pour in the vodka & seal the top of the jar. Place in cool dry place & allow to infuse for 36 hours.

Strain mixture & discard rosemary. Store in clean glass container for up to 3 weeks.